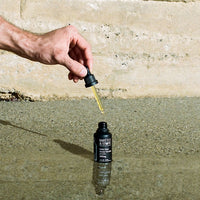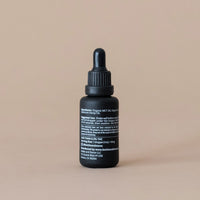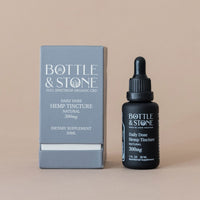 Daily Dose Organic Full Spectrum CBD Oil Tincture - 300mg
Description
Our Natural Tincture is designed to be part of your daily wellness ritual: you can put a serving in your tea or juice or take it as-is for all-natural wellness.
All Bottle & Stone products are tested by the internationally accredited ProVerde Laboratory.
Daily Dose Natural Tincture 300mg Test Certificate
Derived from our certified-organic hemp-farm in Vermont, our full-spectrum CBD (cannabidiol) tinctures are an easy, efficient and worry-free way to begin your journey.
Serving Size:
30 servings per 1 fl. oz bottle
1 dropper = 10mg
Additional Information
• Supports daily focus while still feeling calm
• Helps fight inflammation, including recovery from exercise
• Manage everyday life stresses
• Encourage healthy sleep cycles
For Best Results
• Consistency is key for success, just like with any other supplement. Take daily.
• Store at room temperature away from light.
• Dropper use: Gently squeeze the rubber end and release a couple times to fill. The dropper will fill about halfway, but this indicates a "full dropper." (Oil will not fill the entire dropper.)
• Avoid touching dropper to mouth to preserve the quality of your hemp extract oil.
• Sensitive to flavors? Mix your oil into your favorite food or drink.
USA grown HEMP
Bottle and Stone's CBD oils are whole-plant extracts that include a variety of of beneficial compounds, including phytocannabinoids, terpenes, flavonoids, and essential fatty acids.
Vermont certified organic
GMO free, gluten free, refined sugar free, no parabens, no artificial flavors, no perfumes, no artificial dyes or colors
Bottle and Stone uses CO2 extracted formulation containing our highest quality available of CBD plants
Extraction type: CO2 extraction. This is a very environmentally friendly process. The extraction agent in the supercritical CO2 extraction process is carbon dioxide – an example of green chemistry. This process is clean, safe and leaves no negative impact on the environment.
We use sustainable practices
Common Questions

CBD is short for cannabidiol. It is a mighty phytocannabinoid found in hemp and known for supporting body and mind in many ways. CBD specifically comes from the flowers and leaves of the hemp plant. (Not to be confused with oil that comes from hemp seeds, which contain no cannabinoids.) Why it works - The human body has a vast network of receptors, called the endocannabinoid system, which helps us maintain overall wellness and keep many of our physical processes moving in the right direction. CBD fits into the receptors, helping the body complete in its efforts to keep us in good health. Learn more about the Endocannabinoid system

Yes. All of our products go through extensive testing by a third-party lab throughout the whole growing process to ensure an accurate and clean final product. The tests provide a complete cannabinoid profile and ensure that our products contain less than 0.3% THC and any other possible contaminates. You can see our full lab report on each product page.

The Endocannabinoid is thought to be one of the most vital and vast receptor systems for sustaining good health. It affects many of our biological processes. Not just for humans, but also for all vertebrate animals, and some invertebrate too. The system contains cannabinoid receptors, the "locks" and a group of diverse chemical compounds called cannabinoids, the "keys." The body produces its endogenous cannabinoids, most notably anandamide and 2-arachidonoylglycerol (2-AG). Endocannabinoids are found in the immune system, the central nervous system, the brain, organs, connective tissue, and glands. All About the Entourage Effect